Lifts for car parking, storing and servicing , what are they
In modern realities, a parking lift is quite common. Due to the fact that there is a constant need to equip additional places for cars, this mechanical parking system is the optimal solution to most important problems and issues. The car lift can be used in garages, various buildings, offices, car services - where there is such a need. The movement is entirely made of quality materials that guarantee complete reliability for every vehicle.
Four post parking lift HP2236 designed by Mutrade is made of high strength steel. This factor helps, in turn, to lift loads that reach a weight of several tons. The main feature of this mechanism is that the coating of car lift contains anti-corrosion components that prevent damage to the surface from the wheels of cars.
This mechanism of HP2236 has a number of advantages in its use:
• allows you to maximize the saving of garage / parking space. Lifts are ideally used also for special vehicle storage;
• practicality and ease of use. The design provides maximum reliability for every vehicle;
• reliable blocking system, which has automatic control;
• the structure has a special hazard warning;
• control of the working pressure in the entire system is carried out by a special valve;
• the whole mechanism is fully protected from possible deformation of heavy loads;
• the possibility of installing the structure indoors or outdoors.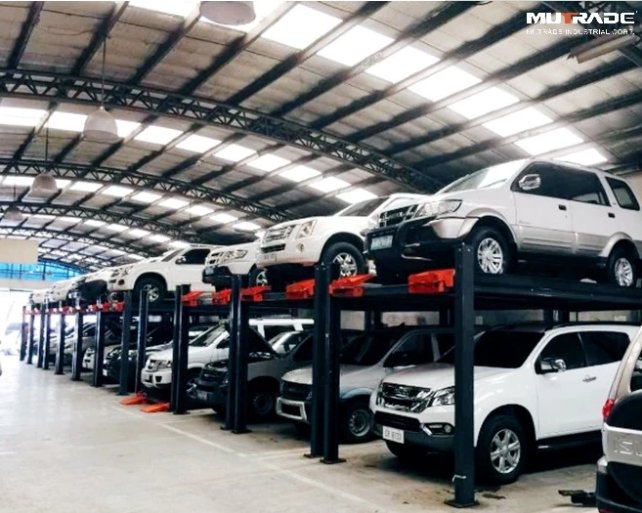 In addition, the coating of Four Post Parking System is fully protected from the negative effects of external and internal factors. Mutrade's specialists calculated the size of the surface as accurately as possible, which in turn allows it to withstand most car models. On the other hand, parking lifts HP2236 allow you to minimize the cost of servicing the car. How? Read on!
How to choose a four-post lift and get it right
Automated parking technology has great promise and is in line with Mutrade's vision for the future, in which mechanized car lifts play a big role.
In the process of equipping a garage or car service, the priority purchase is a car lift, without lifting equipment for your car effective space management and full-fledged work are impossible. Very often, hydraulic car lifts are necessary for our customers not only for parking and storing several cars, but also for the simplest repair and service of the car. At the same time, in car repair shops, these car lifts are used for repairing the chassis and transmission, carrying out body repairs, performing a camber and other processes. The optimal and most effective Mutrade parking and car servicing solution for such projects are four-post heavy-duty car lifts. They are easy to install and easy to use.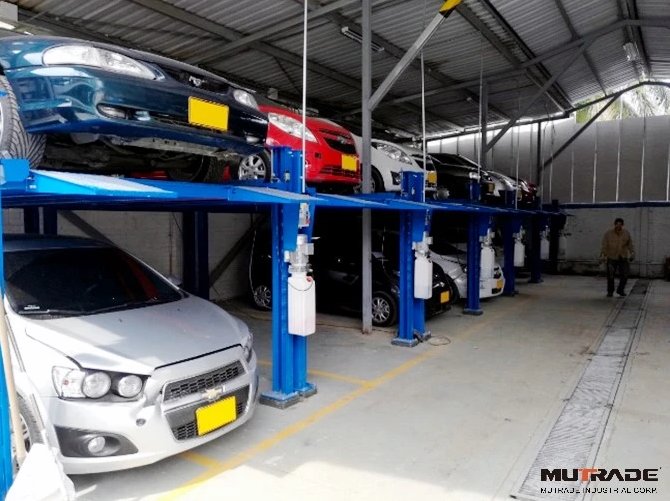 Almost every car owner has experienced car breakdowns during his life. In this case, when there is no experience in repair work, you can simply take the car to a car service.
But what if this experience is present, and there is no desire to pay for work that can be done on your own? The answer is the following - you need to purchase a car lifting mechanism for the garage and start repairing your car.
And if you decided to buy a four post car elevator for the garage, not just for parking, but also for a small car repair - let's figure out what information about your garage, car you need to take into account.
What is an automobile lift needed for? What tasks a Hydraulic car stacker needs to cope with:
- for testing, repairing and washing the car;
- to establish wheel alignment;
- parking and storage of cars in the garage;
- coordinating their angles of inclination;
- to effortlessly carry out body manipulations.
Not all parking lifts meet the challenge of car repair, but thanks to the advanced design with the removable parts in the middle of the platform of the HP2236 Four Post Garage Lift developed by Mutrade, it is possible!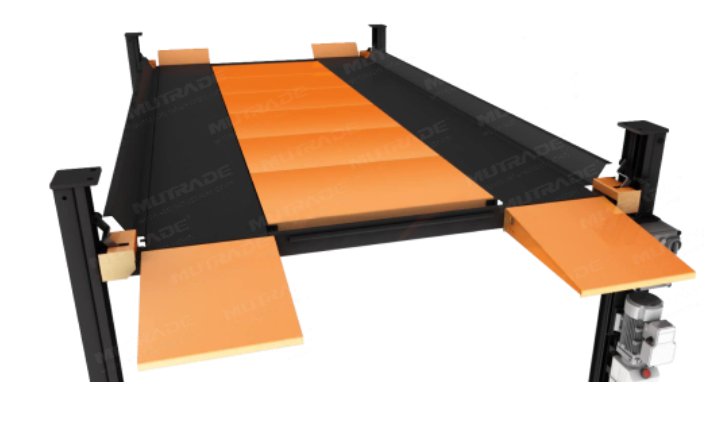 Mutrade produces a large number of different types of hydraulic car lifting mechanisms, they are different in characteristics and sizes, from mini to full-size, and among the huge assortment of car lifts and parking equipment there is also lifting equipment for the garage, which will serve not only as a car storage place, but also a car service for your lovely vehicles.
Four-post powerful car elevator HP2236, in which the car is held due to the presence of perpendicular steel posts. The bottom of the lift guarantees the strength of the structure. The equipment is placed in the concrete floor using anchor bolts. Mounts and electromechanical or electro-hydraulic lifting devices are located on the side of the machine.
Four racks, coupled in pairs by ladders (two longitudinal bases).
To effectively perform the tasks assigned to the car lift, it must have a certain:
- platform dimensions;
- lifting height;
- carrying capacity.
HP2236 usable width of 2100mm allows parking and servicing cars with any wheelbase (from compact subcompact cars to long-wheelbase cars and light commercial vehicles)

1800mm and 2100mm lifting height available to accommodate cars of different heights

Lifting capacity refers to the weight of the vehicle that the lift can lift without risk of overloading. Parking capacity of HP2236 is 3600kg that allows to accommodate heavy SUV, MPV, pickup, etc.



Four-post garage lifts have a very large working functionality. In addition to the main purpose of storing and parking cars, they can be used for servicing both cars and trucks (for example, for locksmith repairs of cars and for work on alignment of wheel alignment). Vehicle Parking Lift are equipped with four stands and a platform for cars mounted on them. The platform is equipped with a special hydraulic lifting system, thanks to its modern design, such car lifts work quietly, and minimum platform thickness and additional access ramps make it possible to park and service cars with low ground clearance (sports for example).
Convenience of operation can also become a relevant parameter when choosing a car lift. Perhaps ergonomics is not such a determining factor in choosing a car lifting device, as already described above - carrying capacity, platform size, lifting height, etc., but do not forget about this point, since creating a convenient garage / parking is key purpose, in deciding the acquisition of parking lifting equipment.
Now imagine that Mutrade can fulfill your most unexpected requirements! For example, make a car lift that can park 4 cars at the same time, or make it possible to repair 2 cars at once. Yes, of course, you can use two car lifts by installing them side by side, but who can say against that one lift is worse than two? This is at least - more occupied space.
Our client from Chile is already convinced of this, let's look at what he got: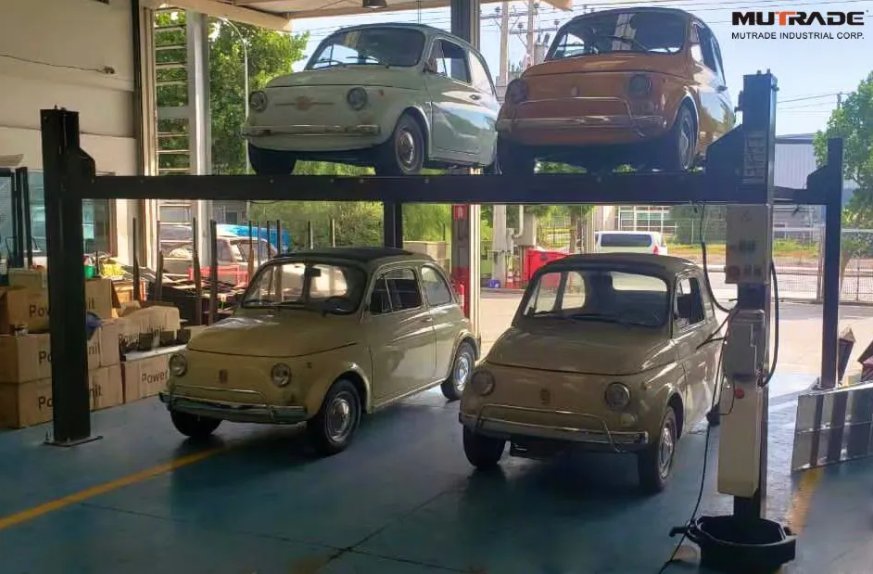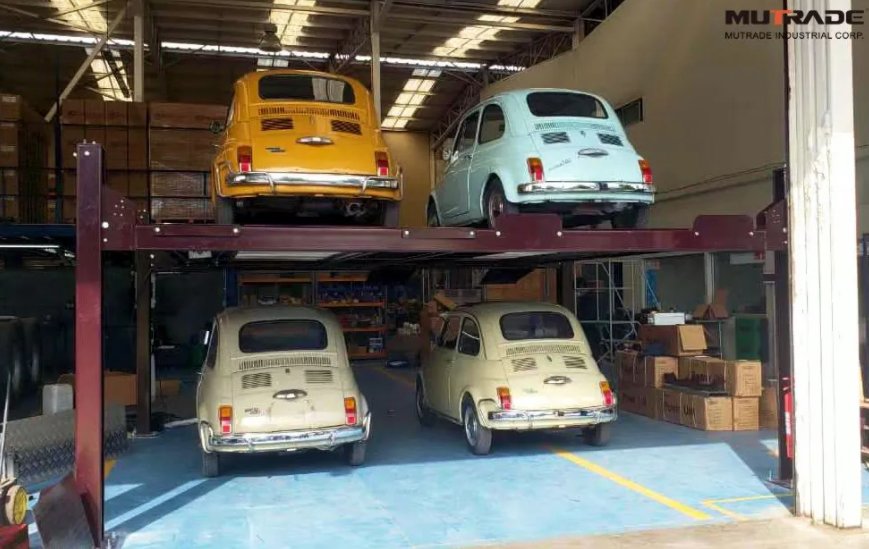 FPP-2T: Four Post Twin Platform Car Parking Lift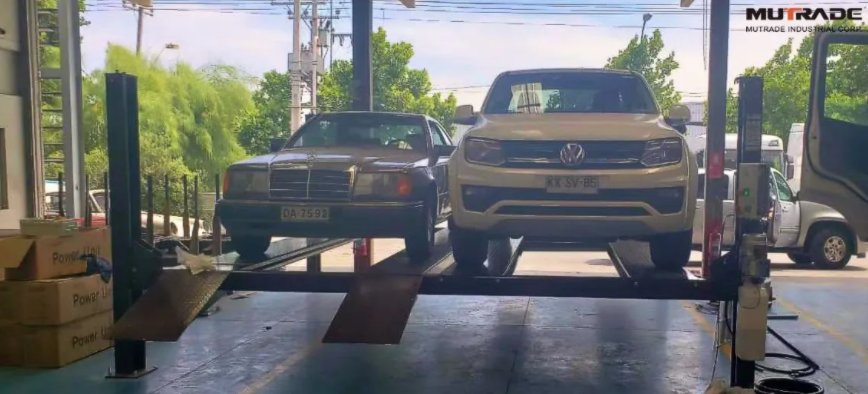 Mutrade solution is a four-post twin platform parking lift FPP-2T . The carrying capacity of one parking space is 2000 kg, while the platform size and lifting height can be changed in accordance with the requirements of the project. FPP-2T is driven by one cylinder and ropes. This unique car parking solution is completely safe - it has all the features described above that our standard four-post parking lift has - full way anti-falling locks , wire break detection, safe operation - up and down buttons, emergency stop button, etc.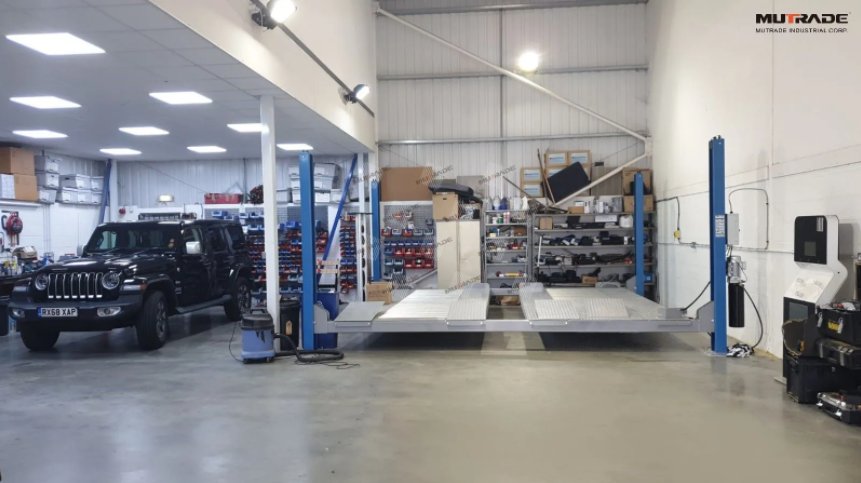 No matter what kind of transport you prefer, whether it is a motorcycle, passenger car, SUV or boat, Mutrade knows how to optimize and ensure the safe storage of your transport!

Contact us today to find your parking solution and get your design for free!