According to statistics, up to 95% of its time, each car is in the parking lot. But in recent years, there has been an acute shortage of parking spaces in big cities, especially in crowded areas - shopping centers, markets, airports, train stations, stadiums etc. The lack of free parking areas prompted Mutrade to develop and create highly efficient automated parking systems for parking lots, which are designed to ensure the rational use of space for storing vehicles in a high-tech way.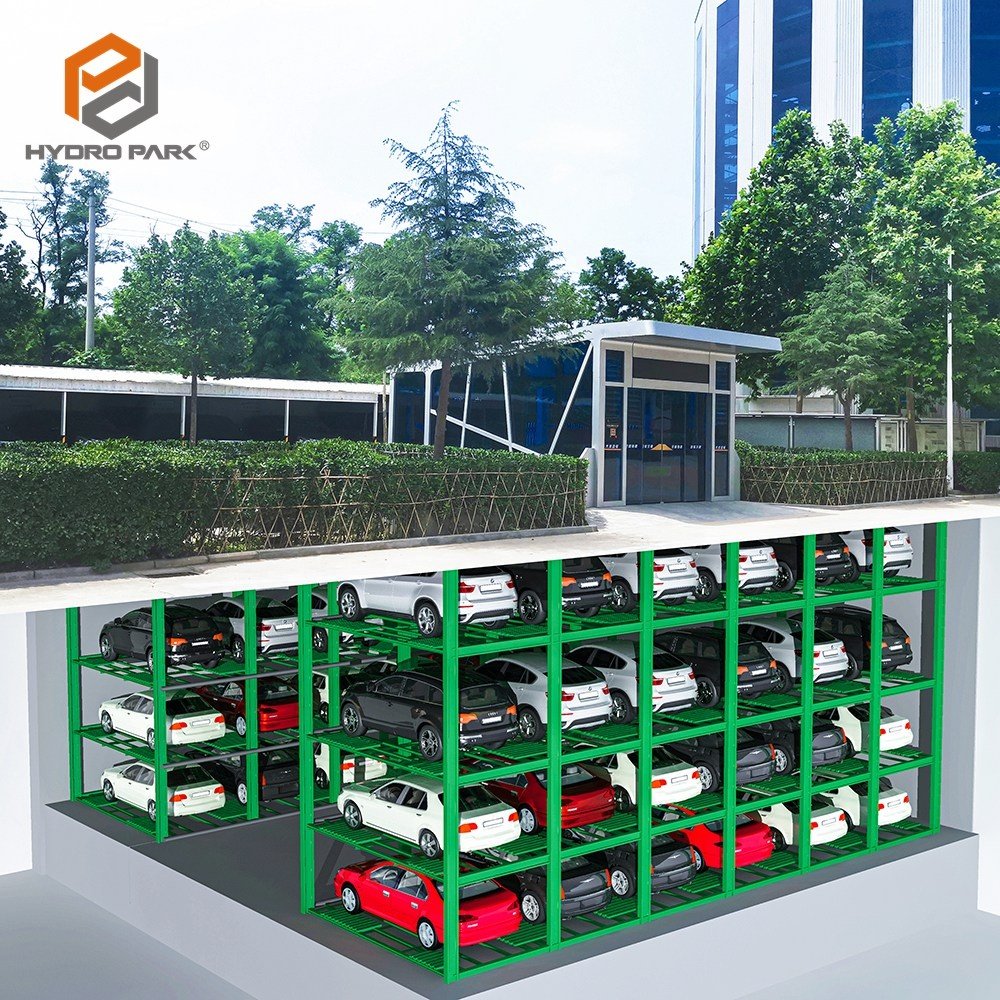 Multilevel automatic parking is a parking that has two or more levels intended for parking a car.
The process of parking and returning a car is fully automatic.
If you compare it with a conventional parking, then you can immediately determine the advantage in the occupied area.
At the moment, this is one of the most promising areas in the field of parking, because in modern megacities, the number of cars continues to grow, while vacant areas for building continue to decrease.
In addition, the driver will not waste precious time looking for free parking space. All you need to park is to enter the parking bay area of the automatic parking system.
If we compare different types of parking equipment with robotic parking, we will find:
- Simple parking is not as convenient as automated parking (independent). Robotized parking is more economical, because the value of each parking space increases. Simple parking is more suitable for long-term car storage, while fully automated systems can be used for long-term storage as well as short-term parking.
- Semi-automatic parking (puzzle systems are basically), they are a little smarter, but the equipment cannot be made too high or too wide, and the running speed is also not as high as in fully automated systems. Each set of equipment can only have up to 40 parking spaces, etc. when fully automated systems are 60-70.
Are there any advantages besides saving space?
Space saving
Praised as the future of parking, fully automatic parking systems maximize the parking capacity within the smallest area as possible. It is especially beneficial for projects with a limited construction area as they require much less footprint by eliminating safe circulation in both directions, and narrow ramps and dark stairways for drivers.
Cost saving
They reduce lighting and ventilation requirements, eliminate the manpower costs for valet parking services, and decrease the investment in property management. Moreover, it generates the possibility to increase projects ROI by using the extra real estate for more profitable purposes, like retail stores or additional apartments.
Additional safety
Fully automatic parking systems bring safer and more secured parking experience. All the parking and retrieving activities are performed at entrance level with an ID card owned by driver him/herself only. Theft, vandalism or worse would never take place, and the potential damages of scrapes and dents are fixed once for all.
Comfort parking
Instead of searching for a parking spot and trying to find out where your car parked, automated parking system provides much comfort parking experience than traditional parking. It is combination of a great many advanced technologies that work together seamlessly and uninterrupted that can deliver your car directly & safely to your face.
Green parking
Vehicles are turned off before entering the system, so engines are not running during parking and retrieval, reducing the amount of pollution and emission by 60 to 80 percent.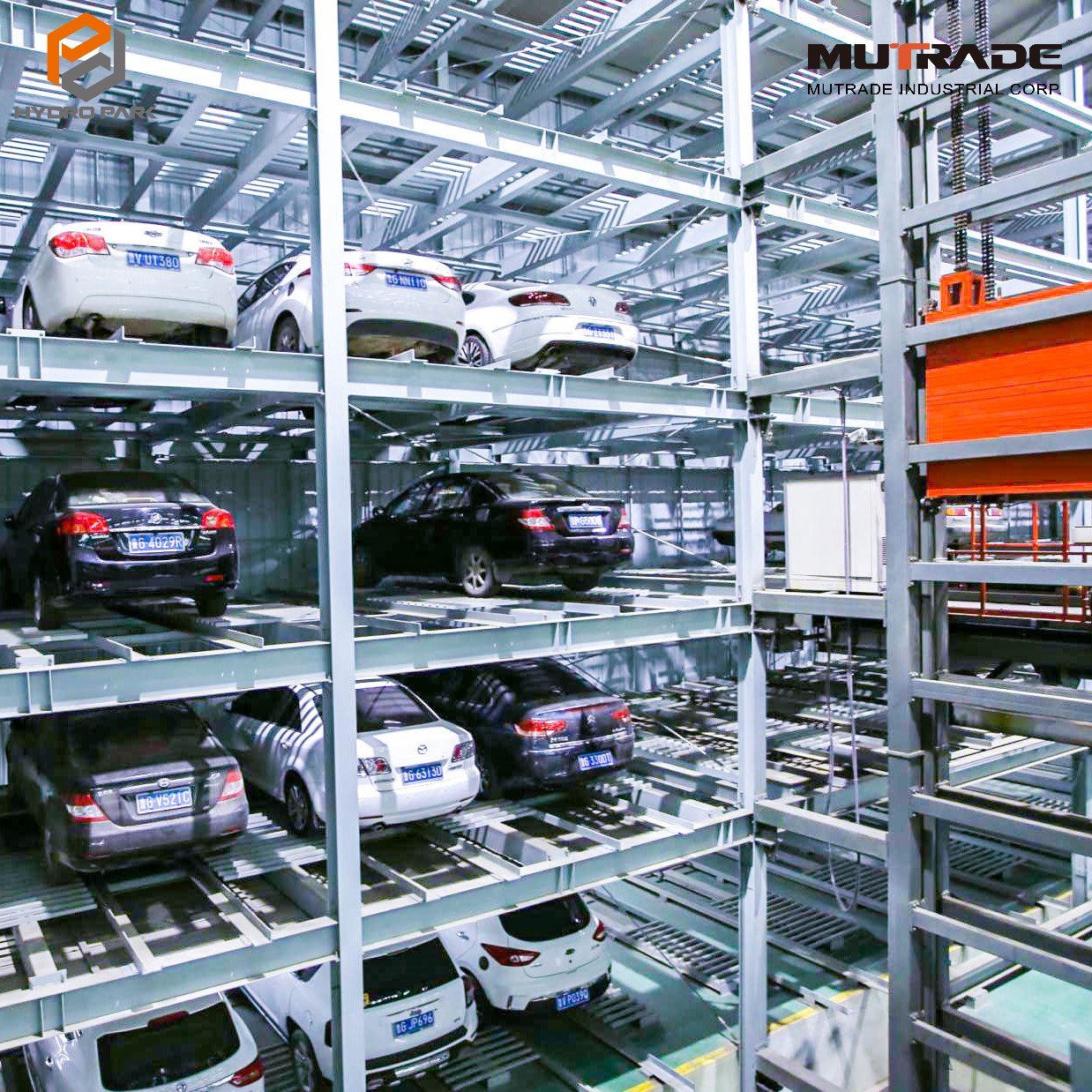 How safe is it to park in an automatic parking system?
To park a car in the automated parking system, the driver only needs to enter a special parking bay area and leave the car with the engine off. After that, with the help of an individual IC card, give a command to the system to park the car. This completes the interaction of the driver with the system until the car is taken out of the system.
The car in the system is parked using a robot controlled by an intelligently programmed system, so all actions are solved clearly, without interruptions, which means there is no threat to the car.

Lets look closer to Safety devices at parking bay area: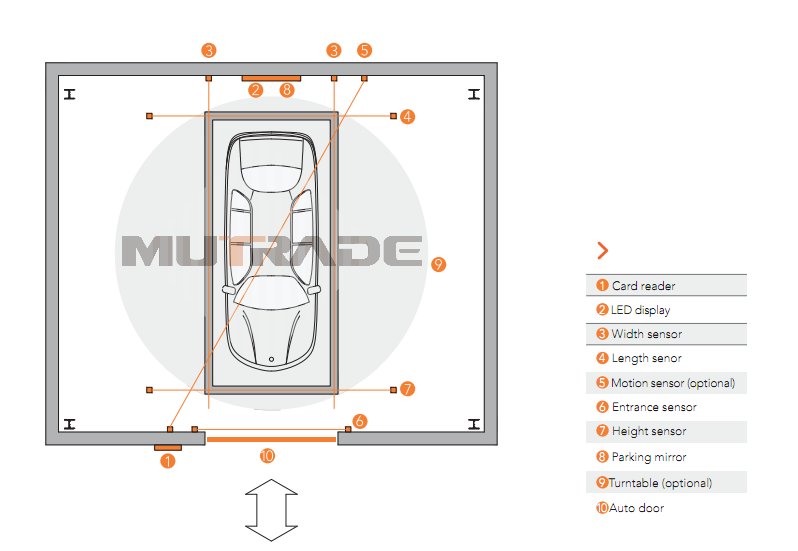 What kind of cars can be parked in fully automated parking systems?
All of Mutrade robotic parking systems are capable of accommodating both sedans and/or SUVs.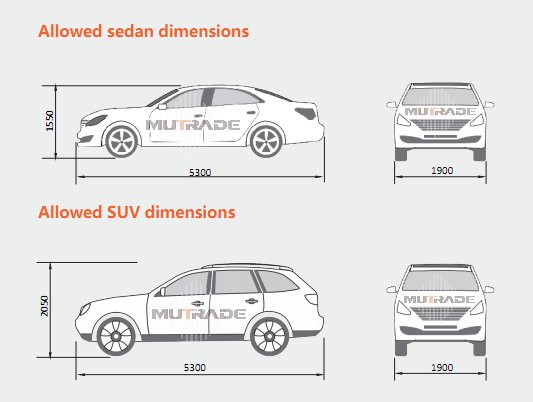 Vehicle weight: 2,350kg
Wheel load: max 587kg
*Various vehicle heights on different levels are possible on request. Please contact with Mutrade sales team for advice.
There differences
Since fully automated parking equipment is a general name for different types of parking systems that allow compact, fast and safe parking of cars without human intervention. In this article, let's take a closer look at these types.

Tower Type

Plane Moving - Shuttle Type

Cabinet Type

Aisle Type

Circular Type
Tower type fully automated parking system
Mutrade car parking tower, ATP series are a type of automatic tower parking system, that is made of a steel structure and can store 20 to 70 cars at multilevel parking racks by using high speed lifting system, to extremely maximize the usage of limited land in downtown and simplify the experience of car parking. By swiping IC card or inputting the space number on operation panel, as well as shared with information of parking management system, the desired platform will move to entrance level of the parking tower automatically and quickly.
Tower parking system High elevating speed up to 120m/min greatly shortens your time of waiting, making it possible to accomplish quickest retrieval in less than two minutes. It can be built as a stand-alone garage or side by side as a comfort parking building. Also, our unique platform design of comb pallet type increases the exchanging speed greatly compared to the complete plate type.

High tower

With 2 parking spaces per floor, max 35 floors high. Access can be from bottom, middle or top floor, or lateral side. It can also be built-in type with reinforced concrete housing.
Wide tower
Up to 6 parking spaces per floor, max 15 floors high. Turntable is optional on ground floor to provide superior convenience.
The tower type of multi-level parking works due to a car lift located inside the structure, on both sides of which there are parking cells.

The number of parking spaces in this case is limited only by the allotted height.
• Minimum area for building 7x8 meters.
• The optimal number of parking levels: 7 ~ 35.
• Within one such system, park up to 70 cars (2 cars per level, max 35 levels).
• An extended version of the parking system is available with 6 cars per level, max 15 levels in height.
Read about the rest of the models of fully automated parking systems in the next article!