Recently, modern parking lots are not complete without a freight elevator for lowering and lifting cars. Residential buildings, car services, business and shopping centers, even private houses are used to install these lifting platforms. Let's talk about them in this article.
Four Post Car Elevator are a type of cargo lifting equipment designed for vertical transportation of cars from one level to another. Today it is indispensable and is actively used in supermarkets, large hotels and shopping centers with their own underground parking, industrial enterprises and multi-storey ground and underground parking lots. The Car Elevators developed by Mutrade are hydraulically driven.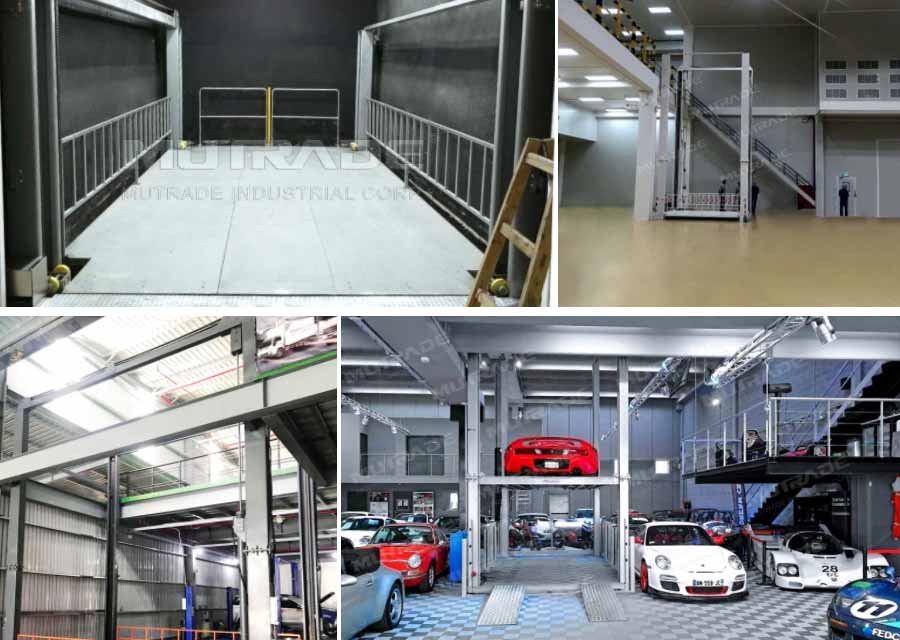 The main advantage of using these Floor To Floor Lift Platforms is space saving. For example, if the parking is located under the building or on the floors above. Also, in order to install exhibition samples of cars on one of the upper floors of a shopping center, you cannot do without an car lift. An open lift is sufficient for this. A lifting capacity of up to 10 tons and a reliable security system can also be attributed to the advantages. There are budget options. Possibility to choose any design.
The advantages of Four Post Hydraulic Car Lift also include: speed of transportation and minimum loads on the construction part of the building, the ability to use lifts in high-rise buildings, use in open multi-level parking lots, at low air temperatures, increasing competitive qualities due to the comfort of the site. In case of fires or natural disasters, these Hydraulic Car Elevators can be used to evacuate people or transport rescue teams. (If the elevator is installed in a shopping center or other center with a high flow of visitors)
FEATURES OF A CAR ELEVATOR DESIGN
- As a rule, the elevating platform is a checkpoint - this allows the car to exit from the other side when the desired stop is reached. It is convenient when the entrance to the parking lot and the exit are located on different sides.
- Corrugated aluminum floor, provides a safe experience and minimizes slipping. The coating is resistant to dynamic loads.
- Customizable platform dimensions allow you to transport cars of different classes, with different dimensions.
- This type of Lift Platform in most cases is operated by a person, less often the control is carried out automatically.
- Equipped with all necessary safety systems.
Mutrade advice:
The Lift Platform For Cars can be equipped with plastic bumpers around the entire perimeter of the cab. This avoids damage to the coating.
FEATURES OF A HYDRAULIC DRIVE:
- Differs in smooth running, and, accordingly, stopping accuracy, characteristic qualities for any hydraulic elevator.
- Stopping accuracy is important if the machine has a low stance or small wheel diameter
- Lift height up to 15 meters / maximum lifting capacity up to 10.000 kg
- Speed 0.4m / min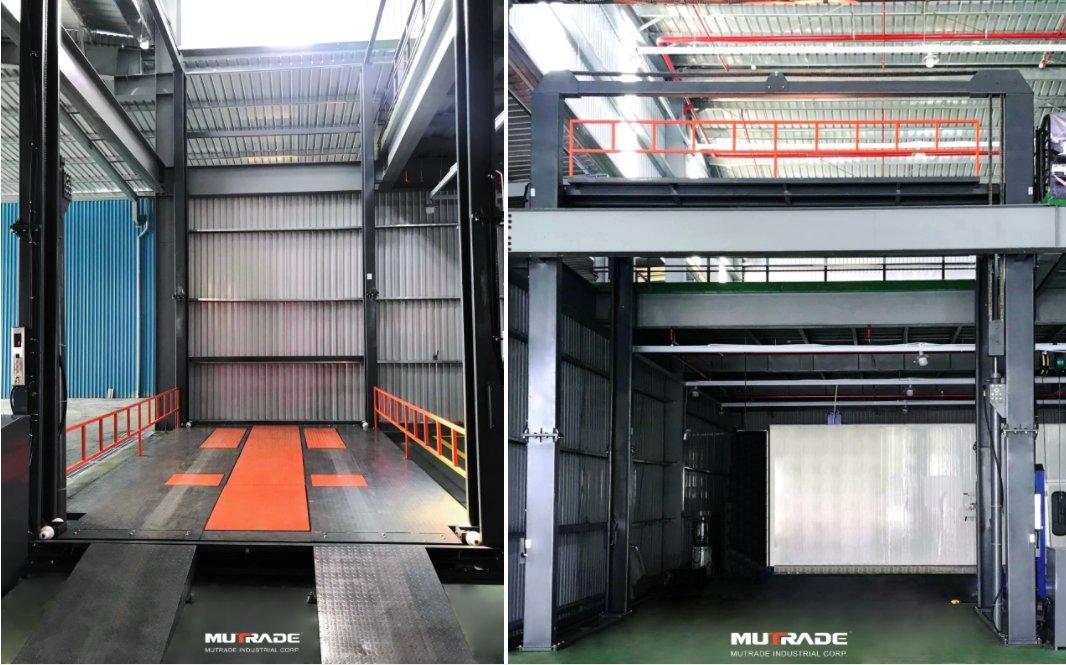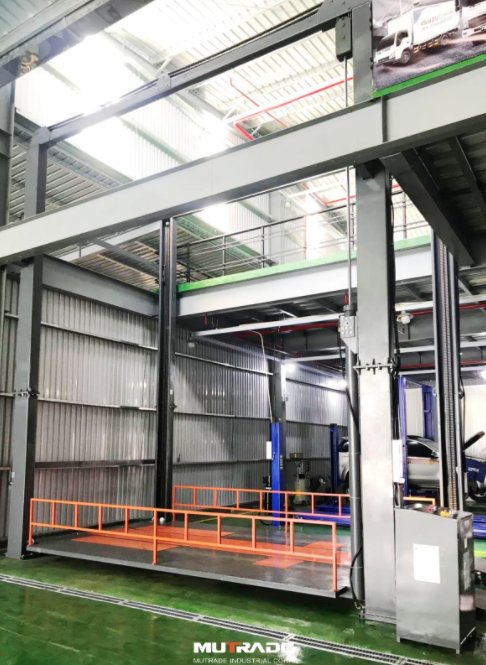 HOW TO FIND THE PERFECT CAR LIFT FOR YOUR GARAGE?
There are many types of car lifts in the Mutrade range for different purposes. In order not to get confused among this variety, first of all it is necessary to understand where and how the equipment will be used. In this article, we are talking about car lifts designed for garages in private houses and for multi-level parking lots.
Our customers often ask themselves what to consider when choosing an elevator for their car, since such a purchase is serious and requires that every detail be thought out. Usually, installing an elevator is a great solution for those who need space saving or additional parking space (for example, for a second car, for motorcycles, jet skis and other motor vehicles).
Let's start with the fact that the installation of a four-post car lift does not require a pit and additional construction work. The choice of this type of elevator, first of all, most often depends on the foundation in the room.
Let's list the main attributes of a car lift:
- Hydraulic cylinders ( provide lifting of the platform )
- Hydraulic station ( ensures the performance of the lift )
- Control system (wired control box、remote control )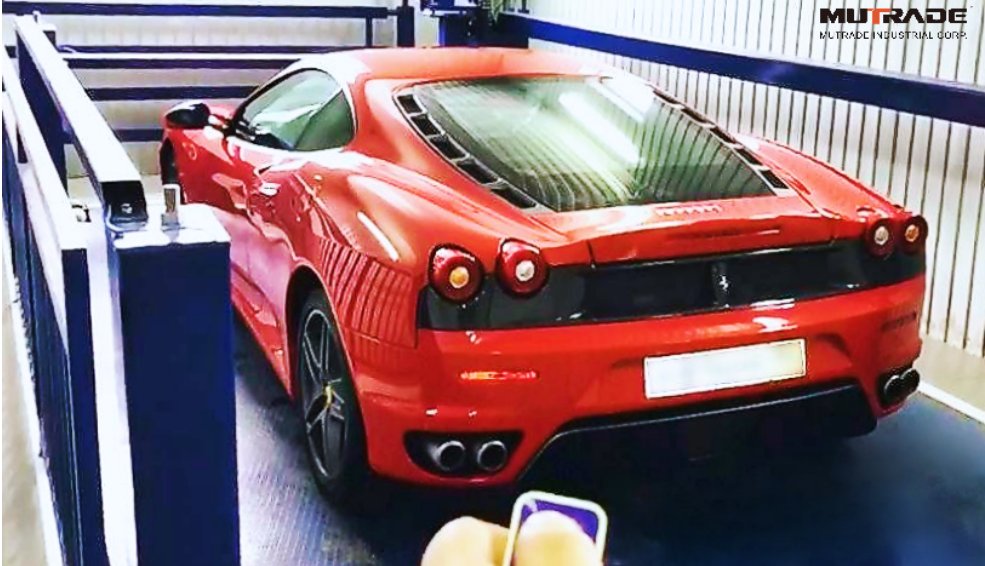 Of course, all components should be made only of high-quality materials for reliability of use and a long service life. As for the Mutrade, we manufacture equipment using high quality Chinese-made metal products. Further, when the structure has already been made, it undergoes mechanical processing: metal cleaning, degreasing before painting and painting itself. Thanks to this treatment, the equipment will serve for a long time without corroding. At the last stage, the equipment undergoes dynamic tests: the car lift is loaded with a mass that exceeds the lift capacity by more than 30%. Agree that after such a test, you can definitely be sure of the reliability of the Mutrade Four Post Vertical Hydraulic Car?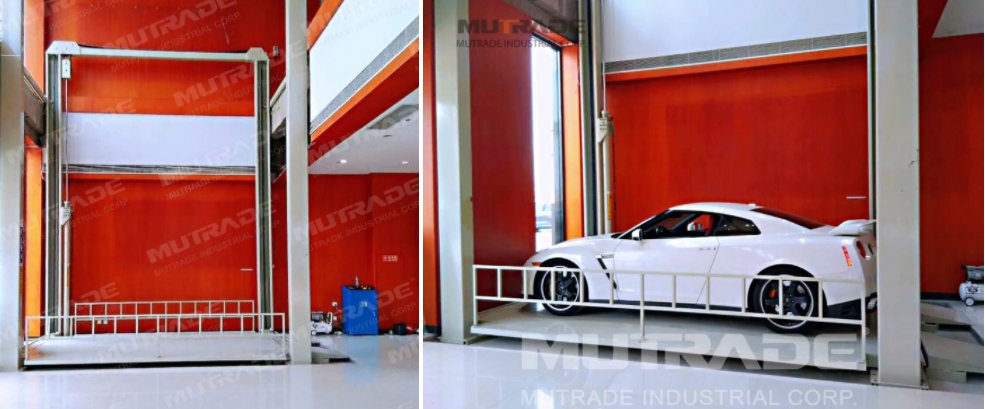 Do you use an Simple Car Elevator to park your car? In most cases, it is a reliable assistant and security is maintained at the proper level. By following certain parking rules when using these lifts, you can be confident in the future.
Now that you know these aspects, and perhaps inspired by the possibilities of modern manufacturing, you can come up with the perfect car elevating platform for your car! If you suddenly have any questions, you can seek advice from our specialists.